Properties and Prices
Prices are fixed and include access to water, electricity and internet, Equestrian and Hiking Center and River Park usage, and hiking and horseback riding trails. All homes use septic systems. Deed restricted and gated community. Monthly maintenance fee (Lots- min $153; Quintas- max $188).
The maintenance fee pays for utility costs of common areas (lights, water systems), the overall upkeep of the property (roads; water, electric, and internet systems; entrance; river park; and horse and pedestrian trails, etc.), provides security gate personnel, and covers other necessary communal expenses.
The Voluntary Hacienda San Joaquin Community Assistance Fund ($10 a month) is used to aid people in the adjacent Chaupi and Vilcabamba area neighborhoods.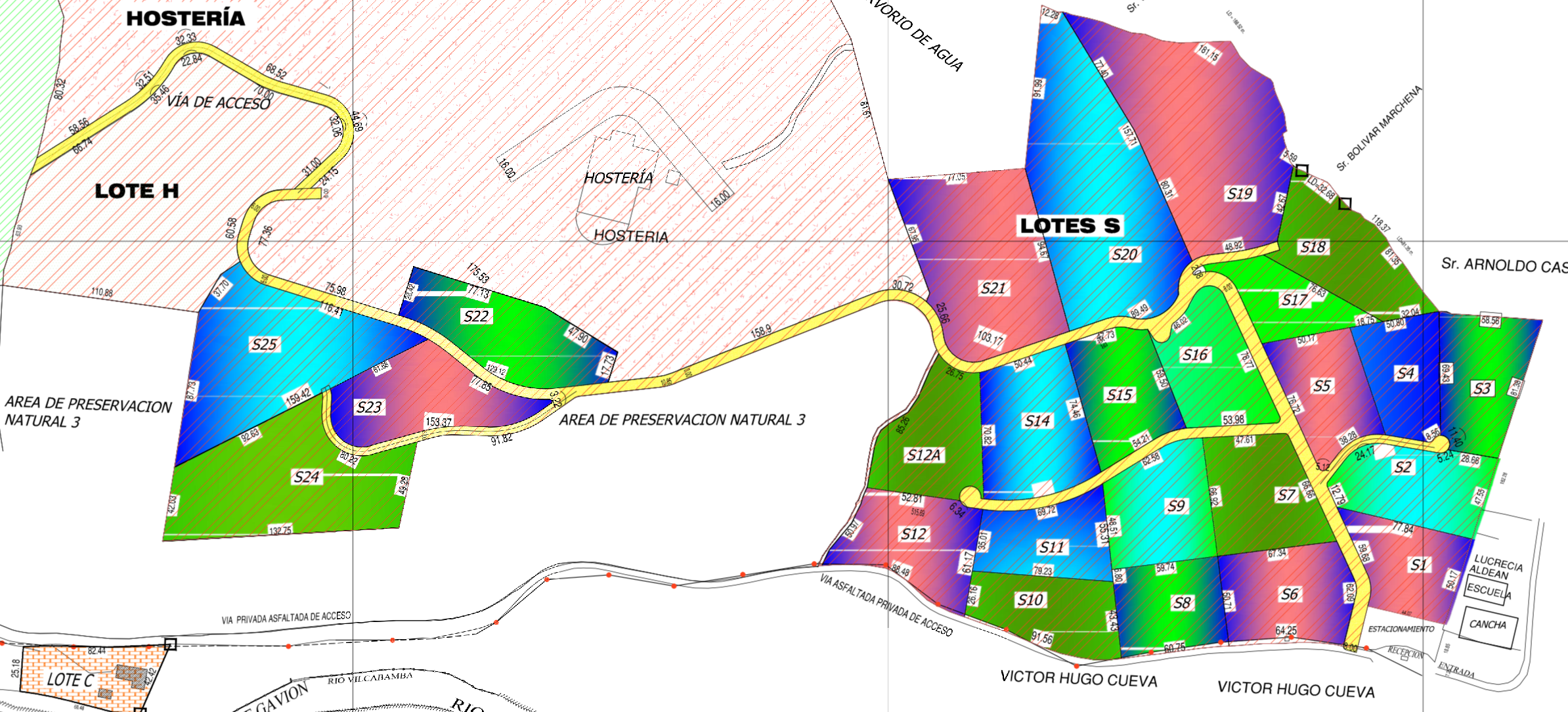 Sunrise Lots
Property

Sq. Meters
Hectares
Acres
Price
per m2
1. HOTEL
115,425 m2
11.54 hect.
28.52 acres
$2,551,120
$22
2. H - STABLES
15,837 m2
1.58 hect.
3.9 acres
$283,699
$17.91
3. S12
3,724 m2
0.37 hect.
0.92 acres
$84,355
$22.65
4. S15
3,352 m2
0.34 hect.
0.83 acres
$70,503
$21.03
5. S16
3,384 m2
0.34 hect.
0.84 acres
$71,182
$21.03
6. S17
2,318 m2
0.23 hect.
0.57 acres
$43,592
$18.80
7. S18
3,900 m2
0.39 hect.
0.96 acres
$53,223
$13.65
8. S19
9,510 m2
0.95 hect.
2.35 acres
$171,658
$18.05
9. S20
9,867 m2
0.99 hect.
2.44 acres
$205,346
$20.81
10. S21
7,336 m2
0.73 hect.
1.81 acres
$132,416
$18.04
11. S22
4,372 m2
0.43 hect.
1.08 acres
$79,766
$18.24
12. S23
4,034 m2
0.40 hect.
1 acre
$71,933
$17.83
13. S24
7,250 m2
0.72 hect.
1.8 acres
$130,869
$18.04
14. S25
7,435 m2
0.74 hect.
1.84 acres
$134,201
$18.04
15. S1
2,878 m2
0.29 hect.
0.71 acres
SOLD
16. S2
3,515 m2
0.35 hect.
0.86 acres
SOLD
17. S3
3,492 m2
0.34 hect.
0.86 acres
SOLD
18. S4
2,723 m2
0.27 hect.
0.67 acres
SOLD
19. S5
3,074 m2
0.31 hect.
0.76 acres
SOLD
20. S6
3,807 m2
0.38 hect.
0.94 acres
SOLD
21. S7
3,729 m2
0.37 hect.
0.92 acres
SOLD
22. S8
3,022 m2
0.30 hect.
0.75 acres
SOLD
23. S9
3,583 m2
0.36 hect.
0.89 acres
SOLD
24. S10
3,180 m2
0.32 hect.
0.79 acres
SOLD
25. S11
2,998 m2
0.30 hect.
0.74 acres
SOLD
26. S12A
3,527 m2
0.35 hect.
0.87 acres
SOLD
27. S14
4,883 m2
0.49 hect.
1.21 acres
SOLD
Hillside Quintas
Property

Sq. Meters
Hectares
Acres
Price
per m2
1. MV7 great views and privacy with HOME
13,893 m2
1.39 hect.
3.4 acres
$450,000
$32.4
2. MV4 Trees
View/privacy
10,849 m2
1.09 hect.
2.7 acres
$80,000
$7.3
3. Q-4 Hillside
Fruit trees/view/
canyon
21,000 m2
2.10 hect.
5.19 acres
SOLD
4. Q-5 Trees/View
with New Home
23,710.60 m2
2.3 hect.
5.9 acres
SOLD
5. Q-6 Hillside
Trees/view
12,009 m2
1.20 hect.
3.00 acres
SOLD
6. Q-7 Hillside
Trees/view
9,826 m2
0.98 hect.
2.43 acres
SOLD
7 Q-7A Hillside
Trees/view
9,826 m2
0.98 hect.
2.43 acres
SOLD
8. Q-8 Hillside
Fruit trees/view
19,680 m2
1.97 hect.
4.88 acres
SOLD
9. Q-9 Trees
View/privacy
12,432 m2
1.2 hect.
3.0 acres
SOLD
10. Q-9A Trees
View/privacy
23,056 m2
2.3 hect.
5.7 acres
SOLD
11. MV1 Trees
View/privacy
6,450 m2
0.65 hect.
1.6 acres
SOLD
12. MV2 Trees
View/privacy
12,707 m2
1.27 hect.
3.2 acres
SOLD
13. MV3 Trees
View/privacy
12,483 m2
1.25 hect.
3.1 acres
SOLD
14. Q-3BU Great views
with home.
14,361 m2
1.43 hect.
3.5 acres
SOLD
15. MV5 Trees
View/privacy
11,505 m2
1.15 hect.
2.8 acres
SOLD
16. MV6 Trees
View/privacy
9,730 m2
0.97 hect.
2.4 acres
SOLD
17. Q-3BL Hillside
Trees/view
21,434 m2
2.14 hect.
1.7 acres
SOLD
18. MV8 Trees
View/privacy
10,011 m2
1 hect.
2.5 acres
SOLD
19. Q-10E Hillside
View/Guest Home.
11,469 m2
1.15 hect.
2.9 acres
SOLD
20. Q-10W Hillside
Trees/view
11,468 m2
1.15 hect.
2.9 acres
SOLD
21. Q-10A Hillside
Trees/view
24,751 m2
2.47 hect.
6.10 acres
SOLD
22. Q-12 Hillside
View/privacy
31,701 m2
3.17 hect.
7.83 acres
SOLD
Riverside Quintas
Property

Sq. Meters
Hectares
Acres
Price
per m2
23. Q-21 River
Feels like a park
9,734 m2
0.97 hect.
2.41 acres
SOLD
24. Q-28 River
Trees/view
8,663 m2
0.86 hect.
2.13 acres
SOLD
25. Q-16 Near River
Trees/view
5,311 m2
0.53 hect.
1.30 acres
SOLD
26. Q-16R River
Trees/view
9,151 m2
0.91 hect.
2.30 acres
SOLD
27. Q-17 Near River
Tree/view
5,709 m2
0.57 hect.
1.40 acres
SOLD
28. Q-17R River
Tree/view
8,528 m2
0.85 hect.
2.10 acres
SOLD
29. Q-18 River
Trees/view
7,259 m2
0.72 hect.
1.80 acres
SOLD
30. Q-19 River
Trees/view
10,195 m2
1.02 hect.
2.51 acres
SOLD
31. Q-20 River
Trees/view
8,478 m2
0.84 hect.
2.12 acres
SOLD
32. Q-14A River
Trees/view
16,247 m2
1.62 hect.
4.01 acres
SOLD
33. Q-22 Near river
Trees/view
7,147 m2
0.71 hect.
1.75 acres
SOLD
34. Q-22R River
Trees/view
7,251 m2
0.73 hect.
1.80 acres
SOLD
35. Q-23 Near river
Trees/view
6,755 m2
0.67 hect.
1.65 acres
SOLD
36. Q-23R River
Trees/view/New Home
1,853 m2
1.18 hect.
2.91 acres
SOLD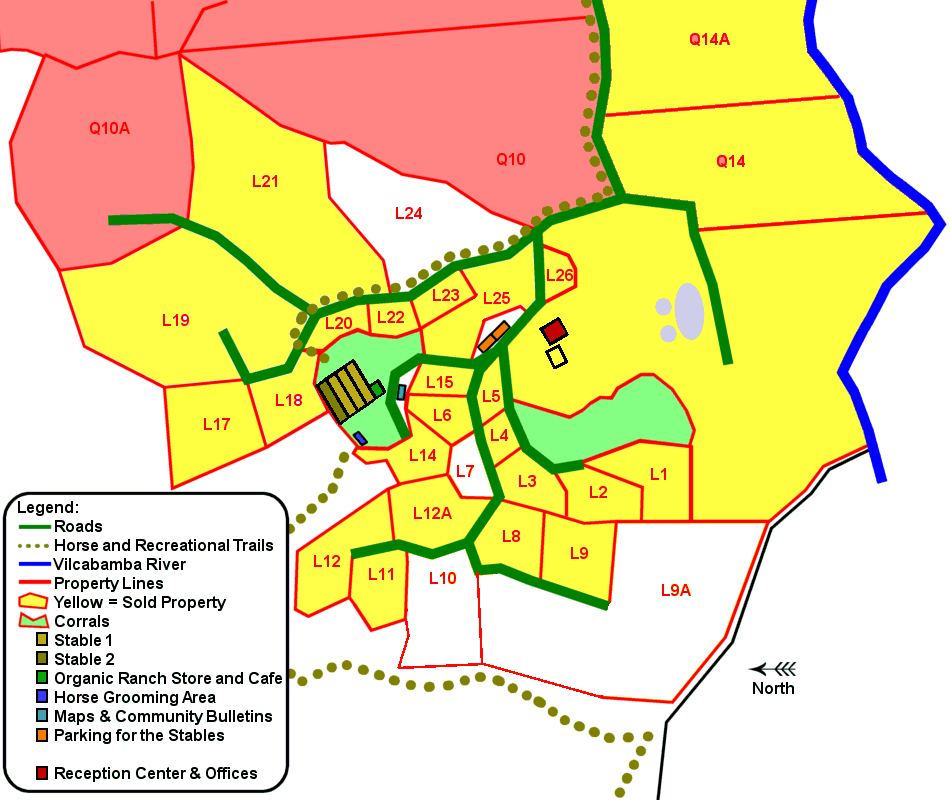 Riverside Lots
Property

Sq. Meters
Hectares
Acres
Price
per m2
37. L-19
Trees/view/
very private
14,922 m2
1.5 hect.
3.7 acres
$250,000
$16.7
38. L-25
View/corner lot with HOME
4,217 m2
0.42 hect.
1.04 acres
$295,000
$69.94
39. L-10 trees
view/privacy
15,179 m2
1.5 hect.
3.8 acres
$70,000
$4.61
40. L-24
Privacy/woods
9,338 m2
0.93 hect.
2.30 acres
$75,000
$8.03
41. L-4 trees
view/corral
916 m2
0.09 hect.
0.23 acres
SOLD
42. L-5 trees with new home
905 m2
0.23 hect.
0.23 acres
SOLD
43. L-6 trees
privacy/stone walls/new home
1,5452
0.15 hect.
0.38 acres
SOLD
44. L-7 Great views
with home
1,234 m2
0.12 hect.
0.31 acres
SOLD
45. L-8 great view
Sugarcane Mill
2,136 m2
0.21 hect.
0.53 acres
SOLD
46. L-9 trees
view/privacy
2,713 m2
0.27 hect.
0.27 acres
SOLD
47. L-2 trees
view/corral
2,223 m 2
0.22 hect.
0.55 acres
SOLD
48. L-11 trees
view/privacy
2,828 m2
0.56 hect.
0.7 acres
SOLD
49. L-12
Trees/view/
very private
3,260 m2
0.33 hect.
0.80 acres
SOLD
50. L-12A
Trees/view/
very private
3,345 m2
0.33 hect.
0.83 acres
SOLD
51. L-14
Trees/view/
Near Equestrian and Hiking Center
1,880 m2
0.19 hect.
0.46 acres
SOLD
52. L-15
Trees/view/
Near Equestrian and Hiking Center
934 m2
0.09 hect.
0.23 acres
SOLD
53. L-17
Trees/view/
very private
4,675 m2
0.47 hect.
1.15 acres
SOLD
54. L-18
Trees/privacy
2,609 m2
0.26 hect.
0.65 acres
SOLD
55. L-1 trees
view/corral
3,244 m2
0.32 hect.
0.80 acres
SOLD
56. L-20
Corner lot
with home
1,199 m2
0.12 hect.
0.30 acres
SOLD
57. L-21
Privacy/woods
11,534 m2
1.15 hect.
2.84 acres
SOLD
58. L-22
View/
Near Equestrian and Hiking Center
1,012 m2
0.10 hect.
0.25 acres
SOLD
59. L-23
View/
Near Equestrian and Hiking Center
1,249 m2
0.13 hect.
0.31 acres
SOLD
60. L-3 Great views
2,091 m2
0.20 hect.
0.52 acres
SOLD
61. Q-15 River
Trees/view
16,315 m2
1.63 hect.
4.03 acres
SOLD
62. L-26
Woods/privacy with HOME
840 m2
0.084 hect.
0.21 acres
SOLD